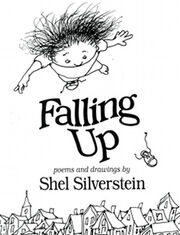 Falling Up is a collection of poems by Shel Silverstein. It was first published by HarperCollins in 1996. The poems for children are accompanied by illustrations also created by Shel Silverstein.
List of poems
Edit
Advice
Allison Beals and Her 25 Eels.
Alphabalance
Bad Cold
Battle in the Sky
Best Mask?-A kid wins first prize at a scary mask contest even though he isn't wearing one.
Big Eating Contest
Bituminous?
Blood-Curdling Story-Someone describes a story that's really scary, even though he really doesn't tell it.
Body Language
Camp Wonderful
Carrots
Castle
A Cat, a Kid, and a Mom
Cat Jacks
Cereal
Christmas Dog
Clean Gene
Crazy Dream
Crystal ball
Danny O'Dare-A girl meets a dancing bear.
Description
Diving Board
Don the Dragon's Birthday-How to celebrate a creature's birthday.
Falling up-
Foot Repair-A boy gets his feet repaired when going barefoot so much.
Forgetful Paul Revere-A patriot forgets what he said.
Former Foreman's Story
Furniture Bash-Some furniture gets destroyed when they beat up each other.
Gardener
Glub-Glub
Golden Goose
Hand Holding
Hard to Please
Haunted
Headless Town-A man tries to sell hats in a town that has people with no heads.
Headphone Harold
Help!
Hi-Monster
Human Balloon-A man turns into a balloon after getting so bloated when he drinks too much soda.
Hungry Kid Island
Hypnotized
Ice Cream Stop
Imagining
In the Land of...
James
Kanga Ruby
Keepin' Count
Keep-Out House
Little Hoarse-A man has a sore throat, but some kids hear wrong in what he says.
Little Pig's Treat
Long-Leg Lou and Short-Leg Sue
Long Scarf
Lyin' Larry
Mari-Lou's Ride
Medusa-Medusa tries to fix her snake hair, but her snakes keep disagreeing on what she should do with them.
Mirror, Mirror
Mister Moody
Molly's Folly
Morgan's Curse
Mummy
Music Lesson
My Nose Garden
My Robot-A robot makes its owner be its servant.
My Sneaky Cousin
The Nap Taker

Needles and Pins
New World
No
No Grown-Ups
No Thank You
Noise Day-Some children decide to create a holiday where they can make a lot of noise.
Nope
Obedient
Ooh!-A kid goes to an actual petting zoo, but when he pets a baby tiger, his fingers get bit off.
One Out of Sixteen
People Zoo-A boy get captured and locked up in a zoo where animals can see him instead of him watching the animals.
Pinocchio
Plugging In
Poison-Tester
Porky
Quality Time
Reachin' Richard
Red Flowers for You
Remote-a-Dad
Rotten Convention
Runners
Sack Race
Safe?
Scale
Screamin' Millie-A girl screams so loud that it ruins her face.
Settin' Around
Shanna in the Sauna-A girl tries to get in a sauna when it has too many animals in it.
Sharing
Shoe Talk-A kid talks to a shoe.
Short Kid
Show Fish
Sidewalking
Smile Makers
Snowball
Somethin' New
Sorry I Spilled It
Spoiled Brat
Stone Airplane
Stork Story
Strange Restaurant
Stupid Pencil Maker
Sun Hat
Sybil the Magician's Last Show
Tattooin' Ruth-A man gets a suit tattoo when he thinks he cannot stand real clothes.
Tell Me
The Bear, the Fire, and the Snow
The Deadly Eye
The Gnome, the Gnat, and the Gnu
The Monkey
The Tongue Sticker-Outer
The Toy Eater
The Voice
They Say I Have...
Three O'Clock
Three Stings
Turkey?-A man mistakenly eats a drumming drumstick instead of a turkey drumstick.
Unfair
Use for a Mouse
Voice
Warmhearted
Wastebasket Brother
Weavers
Web-Foot Woe
Weird-Bird
We're Out of Paint, So...
When I Was Your Age
Why Is It?
Woulda-Coulda-Shoulda
Writer Waiting
Yuck
Shel Silverstein poetry collections:
Ad blocker interference detected!
Wikia is a free-to-use site that makes money from advertising. We have a modified experience for viewers using ad blockers

Wikia is not accessible if you've made further modifications. Remove the custom ad blocker rule(s) and the page will load as expected.